Confused about what soil to use?
Let us pot them for you! We sell home ready plant and pot combos to save you the trouble. The perfect soil for each plant to ensure they thrive, every time.
Shop now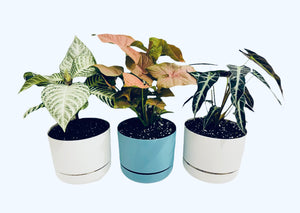 We love The Lilypot!
We purchased two beautiful healthy plants from The Lilypot and received this amazing g free gift 🥰
Simply beautiful
This pot is a stunner, came well packaged and literally over night from when I ordered. Looks beautiful with all my plants so has been hard to pick a favorite to put in it. Thank you for the beautiful gift
Monthly Free Gift
Gorgeous wee cover pot. Very stylish design. Pleasantly surprised with how lovely it looks.
Cover pot
Beautiful cover pot. My sons begonia fits in there nicely, really makes the color of the plant pop.
great first timer
the free gift is just beautiful, suits my fittonia, which now lives in our bathroom(for humidity).
I expect to order again soon.