Confused about what soil to use?
Let us pot them for you! We sell home ready plant and pot combos to save you the trouble. The perfect soil for each plant to ensure they thrive, every time.
Shop now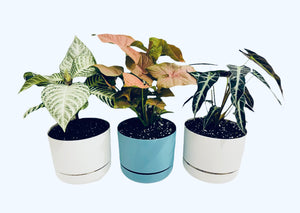 Well worth it
This was my first time doing a plant workshop,
I must say it was very informative. Which plant needed more water compared to those that don't. Which was my biggest concern. I got a lot out of this, all the info I received. I have a large amount of plant with different need well Over 300 plants I no longer count 😂😂
From common
to rare. Highly recommended, the information you received was so helpful you won't be disappointed.
Thank you Tanya, it was lovely meeting you over zoom and I really appreciate your feedback and kind words. Reach out anytime I can help.
Chontelle