Confused about what soil to use?
Let us pot them for you! We sell home ready plant and pot combos to save you the trouble. The perfect soil for each plant to ensure they thrive, every time.
Shop now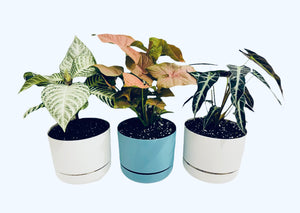 Workshop
Chontelle u absolutely rock!
I really enjoyed the workshop, came away with a better understanding of the do's / why's of my plants.
Can't wait for spring and summer!
Highly recommend this workshop.
The small number/ time was just right.
Absolutely love the booklet, it so has been my go to bible the last couple of weeks.
Thank you Chontelle
Great workshop for new indoor plant lovers
Great workshop if you are starting to grow your interests and indoor plants, this workshop will teach you the basics of what to do and what not to do and lots of valuable tips! 🙂
Excellent workshop
I really enjoyed this workshop. Chontelle is so knowledgeable and helpful. I've come away with a good idea of how to look after my plant children. Plus the propogations are awesome...roll on spring when I'll have new babies in my plant family. The intimate setting, small number and time (2hrs) were all perfect. Thanks Chontelle!