Confused about what soil to use?
Let us pot them for you! We sell home ready plant and pot combos to save you the trouble. The perfect soil for each plant to ensure they thrive, every time.
Shop now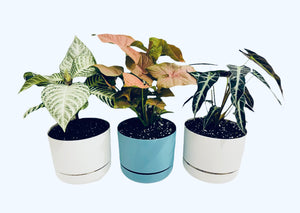 This 🌟🌟🌟
Haven't used all my new things yet, loving what I've used to date, cannot wait to repot some plants & play with more in this pack 😊
Learning different things from Chontelle every day, I've always been a stickler for "Grandpas ways" & what he taught me, this is exciting & new & works in beautifully with things he taught me 😍
Quietly confident
I'm a newbie with plants, was feeling so incredibly nervous about my new plant babies. After flicking through the net doing some research, I came across Lilypot. The website is so informative, user-friendly and completely understandable! Now I'm quietly confident that my new babies might actually make it to toddlerhood!! Thanks for the help, the uncomplicated advise and the tools to let me succeed! I'll defo be back!